Action Sports News
Sammy Carlson Invitational - Talent and dollar bills at Mount Bachelor this weekend

The wall ride from last year's invitional. This year's feature is 80-feet long.
Words: Julie Brown
In honor of his third Invitational, Sammy Carlson decided to up the ante and triple the size of the main feature—a wall that stretches 85 feet across and has a U-shaped bowl in the middle. The bowl is a skate-park inspired feature with several big airs that will launch skiers into the middle of it. A solid crew—Tanner Hall, Henrik Harlaut, Phil Casabon, Simon Ericson, McRae Williams, and the list goes on—is showing up to Mount Bachelor this weekend. Expect to see great things. Carlson will be handing out dolla' dolla' bills, on the spot, to skiers who go big and show creativity.
"It definitely gets people stoked when you do something cool and get a little bit of money," says Carlson. "Everybody likes making money."
We caught Carlson just as he was coming off the hill to hear a little bit about this wall, the crew that's showing up, and a place called Fantasy Camp in Alaska, a fabled land he just returned from on a film trip with Teton Gravity Research.
How's the setup coming for the invitational?
It's going good. We have a five-man crew building the wall. It's a bit of a challenge this year with a little less snow. But overall everything is shaping up to be the best Sammy Carlson Invitational yet.
Tell me more about this wall you're building.
This year, we're doing another wall ride—more of a skate-style feature. It's three times the size of last year. It's insane. There's a lot of engineering behind it. We'll have a rail all the way around the top. In the middle, it's the same height, but there's a section that's bowled out. Think of a U-shape. But an obtuse U. It's so fun to come up with these ideas.
The crew getting the 80-foot wall built and prepped for Saturday's invitational. PHOTO: COURTESY OF SAMMY CARLSON
There's a lot of talent coming to your mountain this weekend. Are you psyched to host everyone?
It's rare to get together like this. Some days, we'll get together in the park and get some laps. But it's rare that we get together to ride a feature of this size. And not feeling the pressure, but to go out and ride together as a crew. That's what this whole event is about, bringing everyone out to Oregon and back to my roots where I grew up.
So you have $15,000 to give away to your friends. That must be nice.
I'll be giving money out for anyone doing anything sick that gets people hyped. I want to see a quad cork into the wall—that's what you got to do for the money. It definitely gets people stoked when you do something cool and get a little bit of money. Everybody likes making money.
You're coming back into the park at the end of the season from a winter spent mostly in the backcountry and skiing big mountain. How is that?
I like taking a break from the park and going out into the mountains and getting a different taste of skiing different aspects. Mentally, being up there and around the helicopter and in that terrain, it prepares me when I get back into the park. I feel really confident with what I do. Any type of skiing is good for you. You're always learning. Especially after being on huge skis and throwing tricks, you get back on your little skis and they feel like feathers.
What's this place called Fantasy Camp all about?
It's a new spot in Alaska that TGR went up to. I'm not really sure if they're going to disclose the location. I was lucky enough to go on the trip with Sage [Cattabriga-Alosa] and Ian McIntosh. It was good for me to get into some bigger terrain. It was amazing. We were snow camping up there. It was a pretty legit setup.
And so your invitational will be the event that will wrap up the winter?
It's a good way to end the season after a lot of competing. It's just great to come out to Bend and have a good time. Just bringing everyone out. Music will be playing. All the riders out here are really laidback and everyone's happy to be shredding together.
Check out this video from last year's competition:

Sammy Carlson Invitational 2012 from SammyC on Vimeo.
Photo of the Day: Ian Coble


I'll call this one, Snow on Trees; Crystal Mountain, Washington
Video: Morpheus Winter Training In Hawaii - Episode 3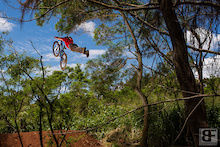 Mitch rides downhill on the Morpheus prototype, then the guys rage the step up.
( Photos: 5, Comments: 11 )
Video: Fourtitude - Four Riders + Rocky Mountain Altitude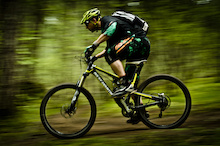 This bike looks like a swiss army knife under all these different riders and adapting to their diverse styles.
( Photos: 6, Comments: 29 )
Japanese climber becomes oldest to climb Mount Everest at age 80

Yuichiro Miura atop Mount Everest in a previous climb. Photo from Miura's Facebook page.
Japanese climber Yuichiro Miura, despite enduring his fourth heart surgery in January, recaptured the title of oldest person to climb Mount Everest on Thursday, though he might not hold the record for long.
Miura, at age 80, summited the tallest mountain on Earth, successfully climbing the 29,035-foot peak for the third time. He previously conquered Mount Everest at ages 70 and 75.
"I made it!" Miura told Associated Press by phone. "I never imagined I could make it to the top of Mount Everest at age 80. This is the world's best feeling, although I'm totally exhausted. Even at 80, I can still do quite well."
At age 70, Miura became the oldest person to climb Everest, but that title was taken from him four years later by fellow Japanese climber Katsusuke Yanagisawa, who was 71.
When Miura climbed Everest at age 75, it came a day after Min Bahadur Sherchan of Nepal completed the feat at age 76.
It was Sherchan's age record, recognized by Guinness World Records,  that Miura broke Thursday. But Sherchan is preparing to make another summit bid next week at age 81.
It's no cinch, however. The Associated Press reported that Sherchan was planning to try to scale the mountain despite digestive problems he suffered several days ago. He told AP on Wednesday from base camp that he was in good health and "ready to take up the challenge."
It was also reported that Sherchan's team faced financial difficulties and that it hadn't yet received the financial help that the Nepal government said it would provide. So maybe Miura's record will stand for a while.
Miura first made worldwide headlines in 1970 when he became the first to ski down Everest from a point at 26,246 feet in the South Col with the aid of a parachute. His father, Keizo, who lived to age 101, skied down 15,781-foot Mont Blanc in Western Europe—at age 99.
To produce the latest headline, Miura, who summited Thursday with his son Gota, has had to conquer adversity. Not only has Miura overcome four heart surgeries, the most recent one for an irregular heartbeat earlier this year, he has also recovered from a fractured pelvis and left thigh bone suffered in a 2009 skiing accident.
Miura's next headline remains to be seen, but we certainly wouldn't put anything past him.
Min Bahadur Sherchan with his Guinness World Record for being the oldest to climb Mount Everest at age 76. Photo from his Facebook page.
Come Correct: Trever Maur – Nose Press

Goods: Roswell – Neptune 8.0

Roswell is excited to announce the newest addition to the Roswell Marine Audio lineup, the Neptune 8.0 tower speaker.  The Neptune spent some serious time with our talented designers being perfected before its release this month.  "The inspiration for the Neptune 8.0 speaker comes from heavy-duty, high-tech machinery" says Mark Robertson, Roswell lead designer on the Neptune project.  "It's designed to be very strong and gives an industrial look that is accented by LED light rings that bring it to life and make it stand out at night."
With an 8 inch speaker and 1 inch super tweeter all contained in an aluminum housing with stainless steel accents you are getting an incredibly loud speaker that boasts a clear and balanced sound.  The brushed aluminum housing won't flex and distort the sound quality of the Neptune and you won't have to worry about parts fading from sun exposure.
"Roswell is always innovating and continuing to raise the quality of their products and the Neptune is no different" says Roswell team rider, Rusty Malinoski.  "Having a product that is easily compatible with my MasterCraft is awesome!   I'm excited for people to have a chance to hear these speakers; they can get SO LOUD and have such a clear sound!"
You can get up-to-date information on the Neptune by signing up or pre-ordering yours, available later this summer, at:  http://www.roswellwakeair.com/series_rma/tower_speakers_neptune/
Spokeless stainless steel grills with LED accents
Aluminum housing with stainless steel and LED accents
CNC machined 3 inch custom clamp
2 3/8 inch plastic inserts included (1.9 and 2.5 inch inserts available upon request)
Built to last with little to no maintenance
High quality finishes won't fade from sun exposure
Long-throw speaker technology creates loud, clear, and balanced full range sound that will not flex or distort
8 inch PRO Series Midbass Driver
1 inch PRO Series Super Tweeter
Power handling: 200W RMS / 400W Peak
Frequency response: 100Hz – 20kHz
Impedance: 4 ohms
Welcome to Summer with Tony and Stephen

Kamp K2 - Serious fun with the American ski company

I never went to summer camp as a kid. Despite the heavy influence of Salute Your Shorts and Heavy Weights on my most impressionable years, my parents never sent me. So I can't say for sure, but I'm going to assume that summer camp is nothing like Kamp K2, the adult fantasy camp held at Crystal Mountain, Washington, over the weekend to which I lost my camp virginity.
Like any camp, campers bonded by bunk assignments and complaining about the mass-produced Sysco food. Unlike your Camp Lakeshore of yore, this K2 love fest had bottomless amounts of beer, a DJ with a mullet and an orange limousine, beer pong, girls, mechanical bulls, threesomes, professional athletes (one who possibly suffered a serious drinking injury), and late-night Hot Pocket feasts. (There was also skiing, although that was not the point.) Here's a highlight video from Kamp.
Jordy Smith blows world title race open with Brazil win

South African Jordy Smith, 25, earned his third career victory at the Billabong Rio Pro and jumped to number two in the ASP WCT rankings. It's the highest Smith has been since 2010, when he finished the ASP season ranked as runner-up to Kelly Slater. Brazilian Adriano de Souza is now leading the ratings, after making the finals for the second event in a row. His strong second-place finish in Rio and win at Bells Beach has vaulted him to the lofty position, but he'll have no chance to rest with events in Fiji and Bali right around the corner.